Before you embark on any major project, you have to understand exactly what the endeavor entails and how it compares to other similar types of projects. When it comes to choosing topics for capstone project vs thesis comparisons, it's easy to get a little confused. Plenty of aspects of each kind of work overlap and there are certain differences that are essential to understanding. Make sure you really do comprehend how these two types of academic work are distinct.


Capstone Project vs Thesis: How to Define a Capstone Project
The first thing you need to consider about any academic paper is your reason for writing it. You have to stick to the rules and regulations set by the academic community at large if you are to write properly and in a manner that'll be expected by your professors. Whether you're at a high school or pursuing a bachelor degree, it remains a fact that you have to conform to the agreed way of doing things if you are to succeed.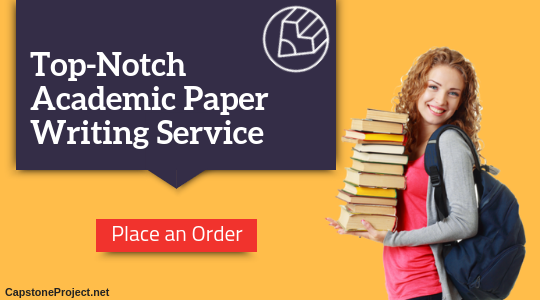 Ultimately, a capstone project is one that has a multitude of different aspects involved, each of which looks at specific academic skills you should have acquired over your years of study. This could be at high school when it is used as a culminating experience when you can pull together all sorts of different pieces of knowledge and tie them together into one project. This is a great way for your teachers to gain an understanding of your academic abilities as they relate to the wider world.
The whole point of such projects is to help students to develop skills in a variety areas, including critical thinking, research and communication. Such a project is generally designed to help students also to build up their confidence and develop career and academic aspirations. That's what makes a capstone project particularly suitable for the high school level, whereas a thesis is more suited for college level students.

Thesis vs Capstone Project: What Writing a Thesis Really Means
You'll most typically have to write a thesis as part of a PhD degree, but that's not to say that won't have some form of shorter thesis or dissertation to complete as part of your undergraduate studies. It's vital that you understand the difference between master thesis and project concepts more common to other academic levels.
A thesis typically involves a huge amount of original research carried out by a student, who must then face objections to it. Generally speaking, a thesis must be defended against all kinds of opposing arguments that will be discussed as part of an official appointment with professors and other faculty members. Rather than being about the student's own development per se, a thesis is something that provides a genuine contribution to scientific knowledge that could not be have been made by anyone else.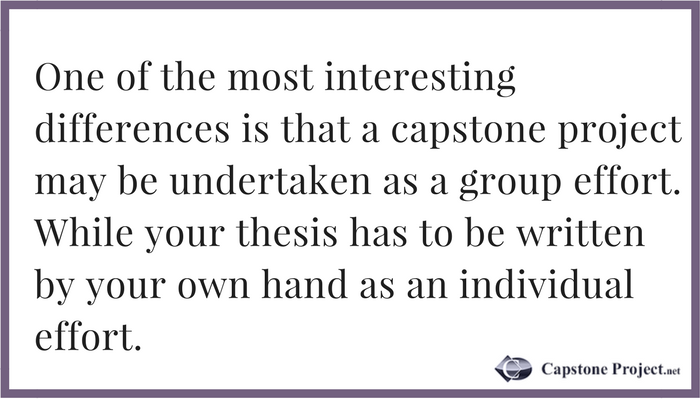 Thesis or Capstone Project: A Handy List of Common Features
Although you might have assumed that it's a battle between two completely different beasts when you think of thesis vs capstone project formats, there are several similarities between them. Despite the difference between master thesis and project ideas like capstone approaches, there are common factors. Whether you're writing a thesis or capstone project, the following points will prove true for either of them.
Both of these academic endeavors are intended to allow the student to demonstrate their unique understanding of a given topic. At the level of thesis writing, this level of understanding may well be equal to the whole sum of humanity's awareness of this topic. You can use either of these kinds of a project for the purpose of displaying your the extent of your knowledge base and how it applies to the world as a whole.
It depends on the topic and the academic ability of the student in question, but you'll find that the shortest master's level thesis projects will last about as long as a capstone project. That is to say, you must complete a capstone project within two semesters, and a master thesis could also be completed within such a timeframe. However, a PhD level thesis takes far longer.
Capstone and thesis topics are broadly comparable at least in the sense that they both attempt to address a particular area of interest and relate it to its applicability in the wider world. Both project formats may results in the generation of completely novel information that could inform the development of a new product or the furtherment of a particular academic discipline.
Both types of the project tend to culminate in the presentation of data and arguments to an audience. You certainly will be expected to defend a thesis at college, and it's increasingly likely that you would have to defend your capstone project even at the high school level.
The Main Difference Between Thesis and Capstone Project Requirements
Understanding the most fundamental difference between thesis and capstone project formatting and layout is vital if you are to succeed in whichever of the two you've been assigned to complete. The ways in which the format of thesis vs capstone project differ are various, but some such differences are more significant than others. Make sure you know whether you're writing a thesis or capstone project.
One of the most interesting differences is that a capstone paper may be undertaken as a group effort. While laboratory-based thesis research may involve the use of shared facilities and the communication of ideas between different parties, your thesis has to be written by your own hand as an individual effort.
The target audience and senior capstone ideas project is notably different from that of a thesis defense. Whereas the presentation of capstone findings takes place in a largely artificial setting as defined by your professors or teachers, a thesis must be defended according to defined protocols and if successful, your work will be on display for the entire academic community to see.
A thesis must contribute genuinely original insight into a particular academic issue. Whereas a capstone project has the purpose of allowing the student to show their ability to bring information together and apply it to a given problem, a thesis is a real-world attempt at furthering humanity's understanding of a particular area of interest.
Points to Remember That Can Help with Thesis or Capstone Project
In the battle of capstone project vs thesis, it's worth remembering one key distinguishing point that separates them neatly into two different categories. A capstone project is ultimately an academic exercise that allows students to develop their communication and intellectual skills, whereas a thesis is an externally focused exercise that aims to make a contribution to the chosen field itself. In other words, the former is student-focused, whereas the latter is discipline-oriented.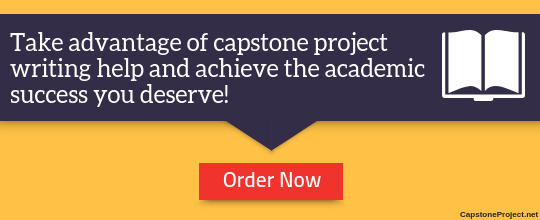 You can now have a high grade without doing much work. If you want excellent results but doubt if you can perform the task by yourself, don't worry you always can get help from our writing service and get the advantages of:
100% original

writing

We always wo

r

k with your requirements and deadline that you specify

Free proofreading

of each work we do

W

e will never use or share personal information

of our clients

Friendly support team

available at any time to offer you assistanc

e
When you're fully aware of how things stack up in terms of capstone project vs thesis, you can really succeed in your endeavors. Learn everything you need to know and your project will shine!