Criminology Capstone Project Writing Help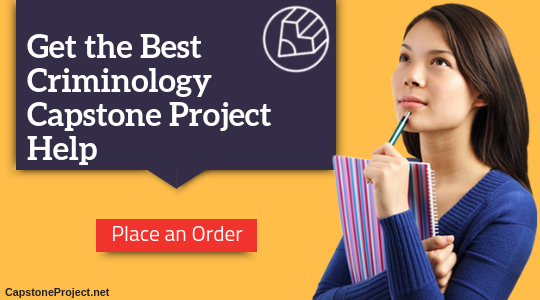 What Should I Expect with a Criminology Capstone Project?
The criminology capstone requirements will depend on the school and its program. The typical capstone project for criminology will be a semester and require research criminal justice issues or problems. A literature review and some kind of data collection will likely be expected as well. A criminology capstone project paper will generally be required at the end of the course. Your project will have to be approved before you proceed. Early in the program you will write and present a capstone proposal.
The proposal should state the issue you are working on and show why it is important and needs changing. Your project objectives should be stated, and the details of the project describing the methods you will use, the type of data you will collect, how data will be measured and analyzed and the time frame of the project all need to be in the proposal.
Is There a Special Style of Writing or Format Used for the Criminology Capstone Project Paper?
The writing style you use for your criminology project paper will be set by your instructor. The APA is a style guide that is often followed for these types of papers. A format/structure that is often used is shown here:
Abstract – Brief description of 1) Project background and focus 2) Methods used 3) Summary of results 4) Conclusion
Introduction – Relates background to the project, tells the problem and project objectives
Review of literature – Literature on the subject area
Materials and methods – As explained in your proposal but more detail.
Results – Presentation of collected data and analysis
Discussion and Conclusions – Conclusions drawn, problems encountered, goals met or missed.
Bibliography – List and document any references
You can contact our company's capstone project service if you need assistance with any aspect of your criminology capstone project.
Best Tips for Writing Your Capstone in Criminology
If you want to ensure that your criminology capstone project paper is accepted and that you graduate then you have a lot of work to do. Writing your paper is not going to be easy and if you do not plan and work at it you could easily fail your degree. Our tips for capstone writing can help you to ensure that your project will be a success:
Choose the right criminology capstone ideas: you need to get your project off to the right start and that means selecting a topic that is going to be relevant, unique and of course achievable.
Ensure you know the requirements: check that you fully understand just how your paper needs to be structured, the word count required and the academic style you must employ.
Look at criminology capstone project samples: these will give you many ideas as well as guidance for how to write your own paper.
Plan your writing: a good plan will help you to ensure that you get the writing done on time without having to make a last minute rush to get everything completed.
Outline the paper: a good outline will save you a huge amount of time with rewriting as well as helping you to identify any potential issues much earlier.
Have daily targets: do your writing every day and at the same time. A routine with an achievable target for how many words you will write will ensure that you make the progress you need.
Proofread and revise your writing: always make the time to carefully check your paper. Even the smallest of mistakes could sink your paper.
How Can You Work with Our Criminology Capstone Project Help?
From finding the perfect criminology capstone ideas to helping you to review your paper prior to submission our services offer some of the most effective support you will find online. All of our support is provided through fully qualified staff and all you need to do to engage with them is to follow the process outlined here:
Complete the order form: our site can be accessed from anywhere at any time allowing you to make your orders 24/7.
Make payment: we charge some of the lowest fees for high-quality writing and editing and your payment is made securely.
Discuss with your writer: you will be assigned a writer qualified in your field who will contact you directly to discuss just what your expectations and requirements are.
Request any alterations: we do all writing according to your needs from scratch. If you need any changes we provide unlimited revisions until you are fully satisfied.
Take delivery of your finished criminology capstone: we will fully proofread your writing and deliver the paper to you in your requested format on time.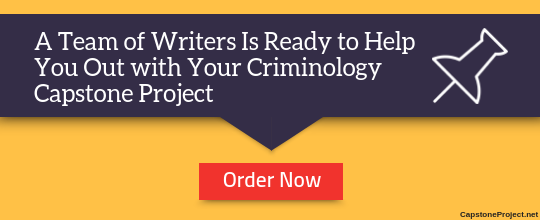 Our Expert Capstone Project Writing Assistance
All of the writers we use have a masters or PhD in their field, and have completed many capstone projects successfully already. We have writers from every academic background
Professional editing by experienced editors
Complete guarantee on our work, including quality, originality and on time delivery
24/7 customer support
Affordable rates
Ensure that your criminology capstone project paper is accepted with the help and support of our professional and affordable services!