The course involves a data science capstone project stage that will give students the opportunity to produce a practical product that can be utilized to showcase their skills to prospective employers. The projects will be sponsored by government, individual and academic associates. Data science capstone project is taken from actual problems and will have duration of seven weeks.
Data Science Capstone Requirements
Students must have some programming background (any language)

Knowledge of mathematics and algebra
The course will enable students to:
Formulate relevant hypotheses and questions in relation to the research

Identify data that is suitable for written statistical evidence

Build models using data types and experimental designs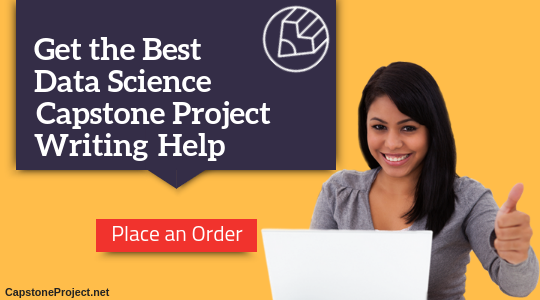 What Should Be
Covered in Your Data Science Capstone Project Ideas
Selecting data science capstone project ideas is not simple. Get it wrong at this stage and you can have major issues with completing your data science final project. This is why it is always worth putting in extra effort to ensure you have the right idea in place for your capstone data science or computer science capstone.
The following are the things that you need to consider when selecting those ideas for your data science capstone final project:
Is your project unique: your research should be unique to you. There is no challenge to repeating or simply copying what has already been done.
Is the project relevant: the aim of your project is for you to show that you can apply the skills that you have learned within the course. If the project does not allow that then it is not going to get the results that you need.
Is the project a challenge: the project should be of sufficient difficulty to provide you with a challenge and to give you the opportunity to demonstrate what you are capable of.
Is the project ethical: hacking a social network to harvest data would probably not be seen as an ethical way to run your project.
Is the project important to your field: if no one will be interested in the outcome of your research then it will be of limited value and is unlikely to provide the end result you need.
Is it feasible: do you have the required resources and time needed to be able to complete your research?
Data Science Capstone Project Aims
Build a predictive data model for voluminous text data set evaluation

Clean actual data and accomplish challenging regressions

Generate visualizations to link data evaluation

Construct a final product in partnership with SwiftKey
30 Topics for Data Science Capstone Project
Natural language processing system

Intelligent support system processors

Mobile application and mobile learning

Computer vision recognition app

Computer data network security

Games and games technology

Data mining system processor

Human computer interface recognition

Business analytics simulation and ofrecasting

Data commercialization technology application

Data mining of call center information
Business dashboard for small online sales company
Coping with missing data for sales reporting
Optimizing web views through analysis of analytics data
Making sales data meaningful within a company
Problem prevention through analysis of issues
Improving employee retention through analysis of data
Analysis of business performance in the automotive sales sector
Visual analysis of paintings
Using visual recognition systems for improved security
Improving customer retention through review of data
Analysis of complaints
System for predicting stock prices
Analysis of health records
Teaching a computer to read
Analysis of social media influencing
System to detect abnormalities in accounting department
Improving branding through web analysis
Prediction of disease outbreaks
Improving insurance company risks
The skills that will be learned and adapted by the students after taking the course are as follows:
Identification and classification of data related to science problems

Have knowledge and overview of R Programming

Know the principles of data cleaning and sharing

Create visual demonstration of data by utilizing base, lattice and other systems in R

Enable students to write documents using R markdown, knitr and other relevant tools that can be reproduce and shared with others

Acquire the basics of statistical inference and perform inferential task associated with target setting and more complicated inferential challenges

Gain knowledge about regression models

Comprehend the mechanisms of machine learning algorithms

Be trained on how to communicate by using statistics and statistical products
After the completion of the data science capstone project, students will earn the Specialization Certificate that has the complete signature track for all of the nine (9) courses and the capstone project itself. Aside from this, the students will also have a portfolio which confirms that they have mastered the material related to the data science capstone course.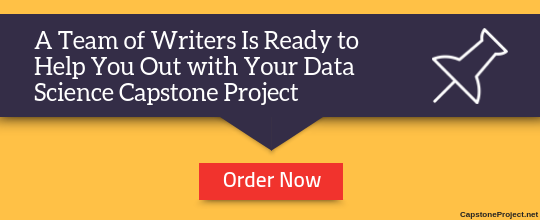 Our Professional Data Science Capstone Project Writing Service
If you have difficulties with writing a good data science capstone project then feel to contact us! Here you can find not only writing bur editing help with your capstone. We are also ready to help with any electrical engineering capstone projects.
We guarantee you:
Expert writing and editing your capstone
Guaranteed on-time delivery
Professional and experienced writers
24/7 contact
Your satisfaction or money payback
Use our professional and highly effective support to ensure that you choose appropriate data science capstone project ideas and deliver a final paper that will get you the result you need!