Capstone Project Proposal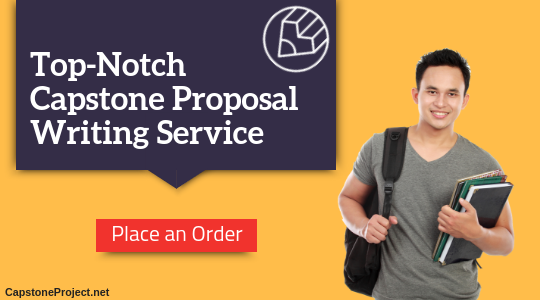 It is important that your capstone project proposal is done correctly so that your professor can accept it and you can continue with your research and writing. Before you can start with your proposal, you will need to learn more about how to write a capstone proposal first. This includes the format, style and content of the proposal depending on what subject you want to discuss in your senior capstone project. This can be challenging for some but not if you look for examples first.
Tips to Write a Successful Capstone Proposal
If you are interested in writing the successful capstone proposal, the following are some tips for you:
Focus on the title: The title of your capstone proposal must be catchy enough to fascinate the readers and examiners. There always remain chances of grammatical mistakes in lengthy titles so try to select short and brief titles.
Division of capstone proposal: At first, you should make the division of your capstone proposal into desired portions. You can make this division in your mind, then it will be easy for you to write the capstone proposal

.

Check the writing instructions of your institute: For the capstone proposal, you must check the writing instructions of your institute. Various institutes adopt different styles for writing the capstone proposal.
Abstract: For any capstone proposal, the first part comprises the abstract of your research work. It should be brief and comprehensive. There should be o subheadings or paragraphs in the abstract.
Introduction: Introduction is the only part of your capstone proposal that allows you to write the background and aims of your research work in details. You can use subheadings, bullets, and paragraphs in the introduction.
Review of previous research work: To start any new research work or writing the capstone proposal, it is mandatory to write something about previous research works that must be relevant to this particular field of study.
Materials: You must describe the required material in your capstone proposal that is required to carry out this particular research work. Don't miss any single material that you carried for this project.
Method: There is always a defined line of action for every type of research work, so you must carefully read the defined method of performing your research work and write it in your capstone proposal.
Results: This is the part in which you should write the results of your research work so that every reader can get an idea of the range of the results that you have collected in your research work.
Discussion: Discussion of results is the mandatory part of every capstone proposal. In this part, you should discuss the positive or negative impact of your research work in relation to the results that you have collected.
Citation: Citation is the part of every capstone proposal that must be written very carefully to avoid the minor mistakes of commas. This is the reference part of the research work that you have written to support your views.
Style of citation: There are various styles of citation like APA and MLA. Different institutes or research journals adopt different citation styles and you must have to take care of their particular style of citation.
Making draft: To make your capstone proposal just successful, it is necessary to make the draft of your research work at first. This thing will release you fro the problem of facing rejection of your research proposal.
Spelling and grammar check: Spelling and grammar checking is the key requirement to make your capstone proposal very successful. Remember! These minor mistakes can lead your research work towards serious objections.
Borders, headers and footers: Adjust the borders, headers and footers of your capstone proposal very carefully. This thing not only make your capstone proposal beautiful, but give it professional look as well.
Where to Find Capstone Project Proposal Example
There are lots of places where you can find a capstone project proposal example. Aside from your school department and library, you can also find samples online. Reading these examples thoroughly can give you an idea of what is a capstone project and how to write your project proposal for your capstone. It would be better if you take advantage of using a capstone project proposal template so you can simply switch the wordings until you complete your proposal. If you are still worried that your proposal isn't as good as you want it to be, you can always look for help.
Why Ask for Help in Writing Capstone Project Proposal?
There are some students who find writing a project proposal to be daunting especially when they can't find the right words to use. Of course, since this is a different type of academic writing, it is important that the proposal itself will be written in a higher level. If this is the case and you are having a hard time putting your thoughts on paper to make an effective proposal, getting professional help is a must. This is where our company comes in.
Use Our Capstone Proposal Writing Service
If you want your capstone project proposal to be done correctly, allow us to provide you with our help. We have a team of writers who can handle proposal writing regardless of the topic that you want to discuss on your capstone. All that we require of you is to give us the information we will need to put together a coherent proposal so that your professor will accept it when you present it.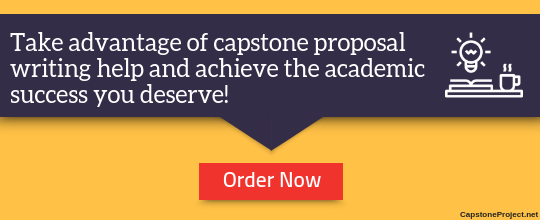 By using our reliable capstone proposal writing service you will get benefits from the following:
Highly-qualified writers who possess a broad knowledge in different fields of study
Top-quality paper only, that perfectly, structured, formatted and meets your requirements
Plagiarism-free check, grammar, and spelling mistakes check
On-time delivery, no matter how tight your deadline is
Full satisfaction guaranteed
Need to write a capstone project proposal? Our team of writers will help you to it perfectly!