Get Your Personal Best MBA Capstone Project Ideas
Completing an MBA capstone project can be time-consuming not to mention challenging especially when you need to meet the requirements of your professor. Successfully finishing your final study assignment means you need to spend hours reviewing your research and to make sense of them all so you can make your assignment.
How Should Your MBA Capstone Project Be Structured?
Once you have selected your MBA capstone and done your research you need to get everything written up in your paper. This needs to be formatted and structured according to very strict rules if your paper is to be accepted. Often your supervisor can provide you with a template that shows you the specific layout of your paper or examples guidance.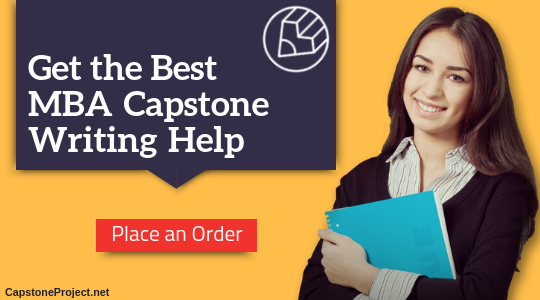 20 Excellent Topics
The following list of MBA capstone project ideas help you to select the right area your research:
Improving health and safety performance and reporting in a steelworks
Marketing plan to improve sales of a small business
An investigation into marketing methods
Best practice in microfinance
Outsourcing of business processes: a review of effectiveness and real costs
Management of working capital in a medium-sized corporation
Improvement of ATS performance for recruiting field
Online trading system for an automotive parts company
Study of work-life balance in the call center
Stress management for executives
TQM implementation for a small manufacturing business
Improvements through the implementation of ISO 9001
Improving employee motivation in call centers
Measuring customer perception effectively
How important is employee satisfaction?
Reorganizing factory flow in a small manufacturing operation
Improving continual learning at an executive level
Business networks security improvements
Diagnostic tool in small businesses
Lean implementation of a medium-sized construction company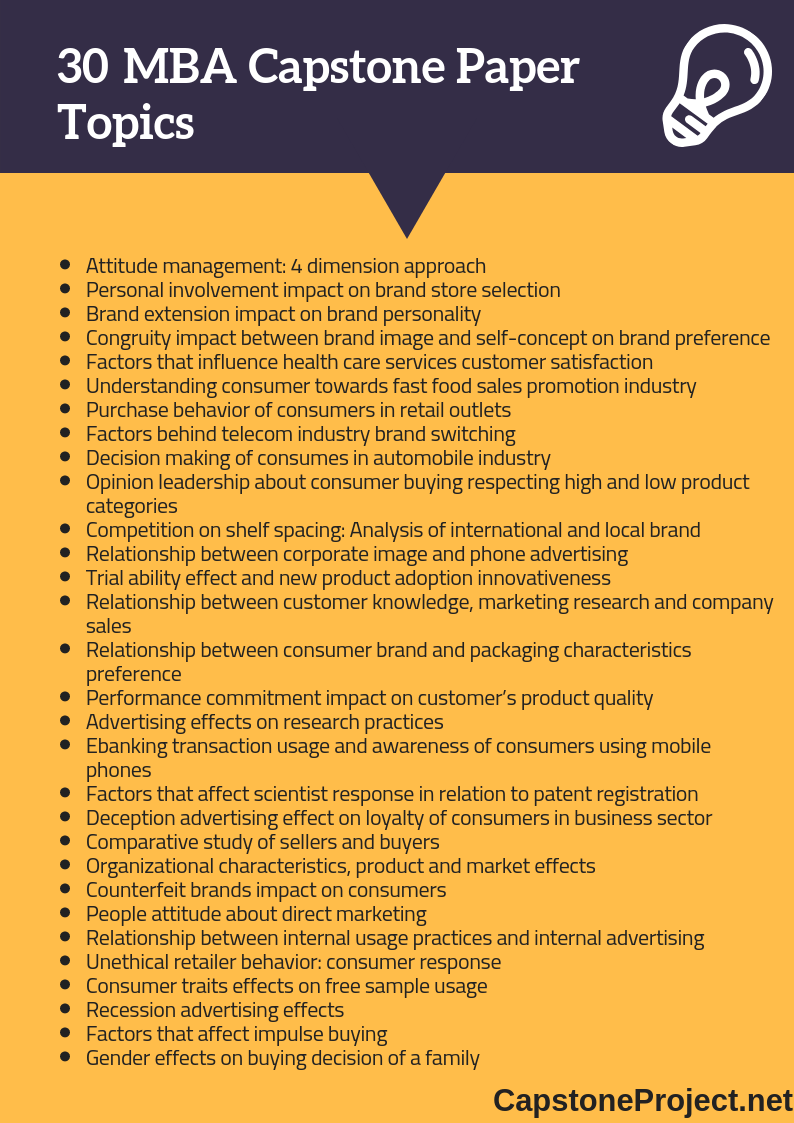 How to Write for Your MBA
After selecting topics and completing your research it all needs to be done up within your research project. This must be completed to the highest of standards as well as being completely free of any issues at all with your task. The following guidelines help you to ensure that your writing goes smoothly:
Look at MBA capstone project examples for guidance: looking at samples is an excellent way to fully understand exactly what is expected of you when creating your report. Do not however use any sample and copy it as your research.
Make a plan: a set of clear milestones to map out your work will help you to stay on track and to ensure that you will finish your writing when it is required. Ensure that enough time is put into your plan revising and fully check it.
Set targets: Do not set a target that you have no hope of meeting.
Write in the same place and at the same time each day: a good routine helps you to meet your targets and to submit your final document on time.
Proofread and edit: always allow plenty of time to improve and check your assignment. It must be free from any issues if you are to have your work accepted.
Why Use Our Services?
Asking for help when it comes to taking your Master's final document finishing touch projection is sometimes necessary especially if you are on a tight schedule. The good news is that several writing services can provide you with the help you need. However, if you are after the best then there is no reason why you should look any further because we are already here to give you the best service yet.
Contact our specialized and highly effective services here today with submitting your report perfectly on-time guarantee!