Create Innovative Psychology Capstone Ideas with Our Help

There are many things that you should consider when it comes to writing a good capstone project. One of the most important things that you should pay attention would be the quality of your psychology capstone ideas. You should be able to use innovative and original topics that will allow you to win over your readers.
When creating interesting psychology capstone projects, make sure that you also consider the availability of data that you can utilize. It is also essential that you know who your audience will be; this will enable you to choose the right topics and design for your capstone powerpoint presentation that will lure in their interest.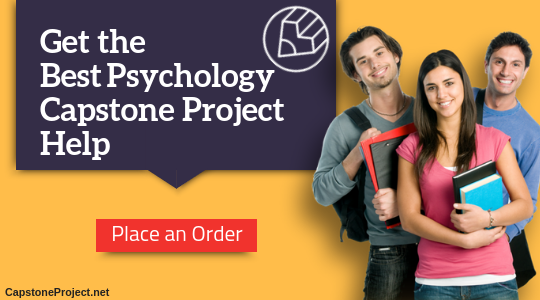 Selecting the Right Psychology Capstone Ideas with Us
Finding psychology senior project ideas or even topics for your thesis or dissertation is not easy. Many students struggle with finding the right ones for their research no matter where they are in their education. It is important to fully understand what is expected of you when you are searching for psychology capstone project ideas if you are to select something that is suitable for your own research.
The following runs through what the requirements are for your psychology capstone ideas:
Ethical: you should always ensure that you are not going to be doing anything that may be considered unethical during your research.
Interesting: you will be spending a lot of time on your research so you want to ensure that you select something that you will be interested in completing.
Relevant: your project must be able to demonstrate what you have learned during your studies if you are going to pass your paper.
Challenging and unique: you must choose something that has not already been done or for which the solution is completely obvious.
Feasible: you only have a limited time and the resources that are available to you, if your project cannot be completed within this then you will not be able to finish your project.
Top 10 Best Psychology Capstone Ideas
Gender-emotion stereotyping and nonverbal communication
Children's encoding and decoding of emotion in music
Cultural differences in emotion/attention
Automatic vs. controlled processes in emotion
The influence of culture (including biculturalism) on cognitive or social processes.
Beneficial and harmful contributions of context to memory processes with age (spanning verbal, visual, and spatial contexts).
Within and between-culture accuracy in first impressions from facial photographs
Using connectionist models to predict impressions of faces from their similarity to different categories of faces
Impact of sleep quality on wake-up responses of salivary alpha-amylase
Creating actuarial assessments for juvenile sexual offenders

Click here to download the full list of psychology capstone project ideas!
Helpful Tips for Writing an Effective Psychology Capstone
Once you have selected your psychology capstone project ideas and started your research you need to do your actual writing. For many this is the area that they struggle with either due to their writing skills or a lack of time. The following tips will help you to ensure that your capstone paper writing will go smoothly and will result in a capstone paper that you can submit with pride:
Understand the requirements of your paper: often your tutor will provide you with a template that will provide you with a clear understanding of how your paper needs to be structured as well as formatting and page count expectations. Ensure that you fully understand these expectations before you start.
Create a timing plan: planning your work with set milestones as to when each section of your paper should be completed will help you to ensure that you complete your work on time. However, ensure that you actually follow your plan and take action to overcome any issues.
Outline your paper: by detailing what you will write within each section of your capstone you will guide your own writing and avoid a huge amount of rewriting. You will also highlight any issues earlier in the writing process.
Have a routine and clear targets: by sitting down at the same time each and every day to do your work and having an achievable target for the number of words you will write you can ensure you will make steady progress towards completion.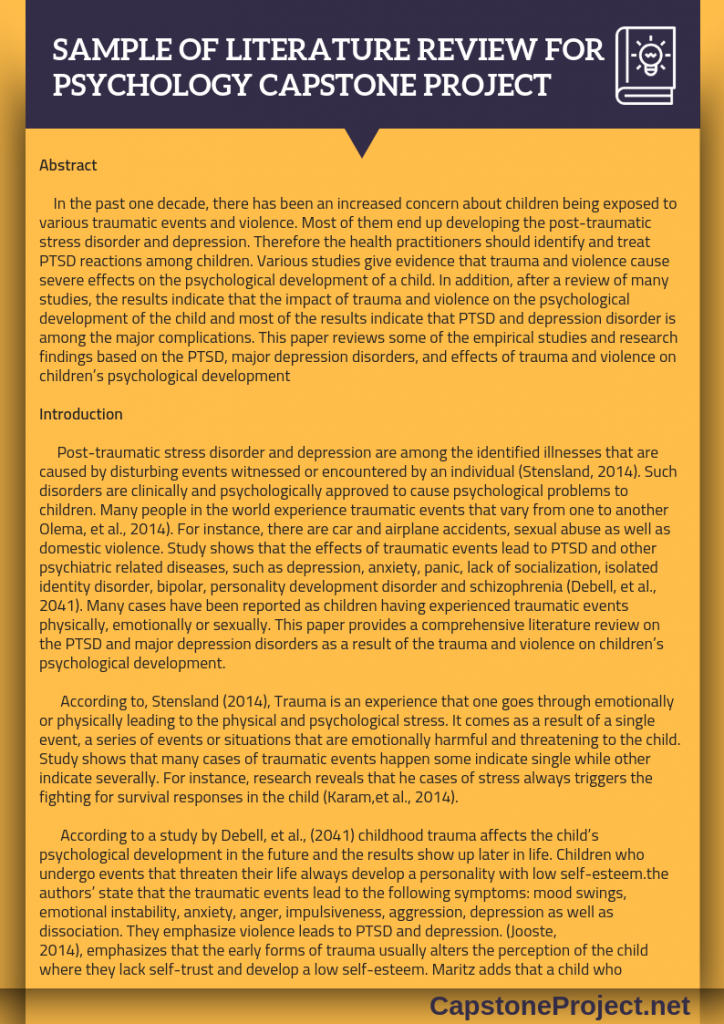 Get Expert Help for Quality, Flawless Psychology Capstone
If you are one of the many who is having difficulty when it comes to writing their psychology capstone project, make sure that you avail capstone project writing services online and our nursing capstone project example. We are more than happy to provide you the necessary writing assistance as to guarantee the submission of a quality capstone project.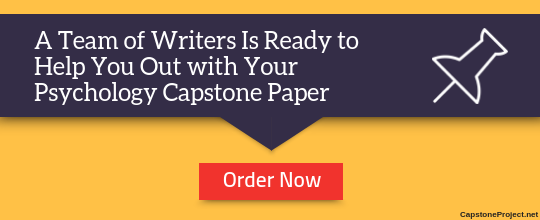 The main benefit of our services is that we are focused on giving you a hassle-free writing service which will surely guarantee your convenience and satisfaction. Get innovative and completely original psychology best capstone project ideas online now with our writers!
Use our psychology capstone project ideas for inspiration as well as our professional and effective writing services to ensure that your paper is finished perfectly!