Consider all of your options when it comes to choosing public health capstone project ideas. There are so many topics from which to pick in the healthcare field and it's vital that you select one that's engaging, enthusing and really interesting for both you and your readers. When you fulfill these criteria, you'll find it incredibly easy and straightforward to start researching and then writing your project. Format the title and work your way through your project systematically. Don't forget to examine the most popular universities and the most interesting topics to study.
The Various Healthcare Specializations You Could Choose
Healthcare management is an umbrella term that encompasses all kinds of different specialties and areas of work. If you're looking for healthcare administration project ideas for your MHA capstone project, you should definitely read an interesting article or two from each topic you're interested in. Once you've narrowed down your topic, you can start to define the main idea of your MHA capstone project. Consider the different specialties below and work out what you want to pursue.
Financial management allows you to work on some of the most complicated money-related issues you'll find anywhere in the world of economics. You can work on projects to do with budgeting, mapping out expenditures and even investing in new equipment for hospitals.
Manpower systems analysis refers to the calculation of how to utilize human resources most effectively. You can work on projects related to the development of schedules and the employment of the right people at the right time.
Hospital management has to do with the day-to-day running of clinics, facilities and other healthcare centers. This is often what many people have in mind when they think of health care administration and if it's your goal to manage a whole medical facility, then you can start by working on a project in this sphere.
Patient finance involves working with patients to discuss and explain all the various public and private insurance plans available to them. This is a great option if you want to remain patient-centric but get to grips with governmental and banking services at the same time.
Of course, there are many more healthcare administration specialties besides the ones outlined here and you'll easily be able to find out more from your college or university.
The 10 Most Popular Universities for Healthcare
Before you even start thinking about healthcare administration project ideas, you should really decide where you want to study this important subject and why you want to pick that particular institution. Consider the 10 most popular universities for completing a capstone project for healthcare management here.
30 Ideas for Capstone Project for Healthcare Management
There are so many different ideas you could choose from when it comes to your capstone project ideas. Take a look at some of the ideas here and work out whether you'd like to pursue something similar. Just remember that your idea really needs to be unique and the 30 suggestions here are merely using examples to inspire you.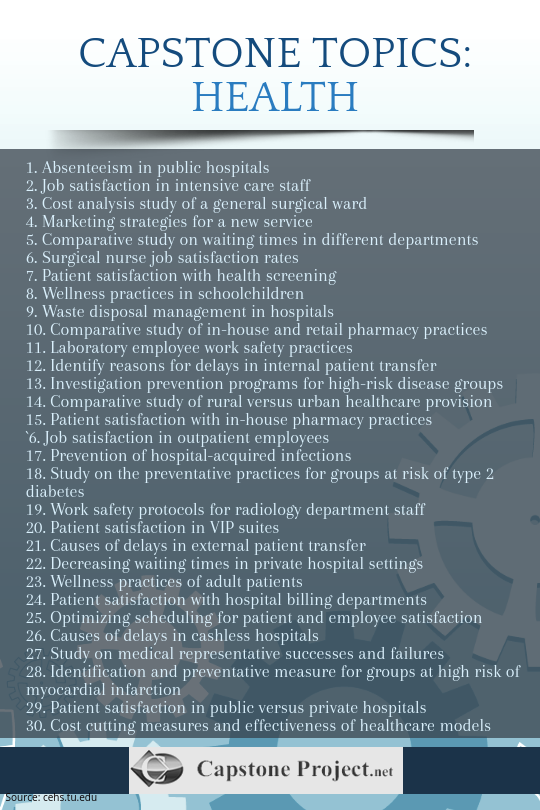 Make the Right Choice for Your Needs
Consider your choice of health administration capstone topics carefully and make the right choice for your individual academic needs. When you pick a subject that really interests you and on which you can definitely write a high-quality project, that's half the battle won already. Take note of exactly what you'd excel at investigating and make that subject the focus of your research.
Choose from the health administration capstone topics that interest you the most. A combination of genuine intrigue and academic prowess will guarantee you the top grades.