What Is Capstone Report – Some Essentials to Know
Working on comprehensive tasks like a capstone doesn't end in delivering it to the institution officials. It continues with several defense steps, including creating some cover papers like a capstone report. This document summarizes the research or project work made by an individual or a group of students during their academic program. This task is designed to unleash students' critical thinking, creating them to solve challenging tasks and demonstrate several skills. Regarding of what is capstone report, it's an opportunity for students to showcase these abilities:
Research skills.
Teamwork (if it's a team project).
Planning and goal setting.
Self-sufficiency.
Project report writing may seem challenging, but only if you don't know how to create it or where to seek expert help with capstone project. Moreover, when students face such a paper for the first time, they may make common mistakes, which is not good for the final mark. However, once there's an understanding of the task and how to write it, it will no longer be time-consuming.
A Bit About Relation With Capstone Issues
Students sometimes work on interdisciplinary capstones as they should conduct research across multiple disciplines. Moreover, there's a tendency for capstone report papers to be connected to community issues, which are also mentioned in the reports. Once your assignment is associated with the vital problem, you can explain how the research affected it and what outcome you have achieved. It will raise the writing's value.
Why Do You Need a Capstone Final Report?
Saying that a final report is essential to the capstone development may not be enough. Students may want to understand the real reason for preparing such writing. There are several reasons why individuals or groups need to prepare a capstone project final report.
First, it's a documentation of a project that outlines the work's objectives, methodology, conclusions, and other aspects.
Second, it's evaluation. As faculty members read project report writing, they can assess the quality and rigor of the project work.
Third, it's the communication of results. A report is a document that communicates the project's development to a broader audience. Even if the topic is outside your field of interest, a well-composed report allows you to understand what the research was about and what results were achieved.
Finally, capstone final report writing is a step of professional development as students upgrade their writing and communication skills. They learn how to present their projects in a clear and concise way, developing professional abilities.
Capstone Project Format Information to Notice
There are no strict structure requirements or stable final report format. It may vary depending on the chosen program's requirements. Still, some common points are to consider when working on the assignment. Let's quickly review them.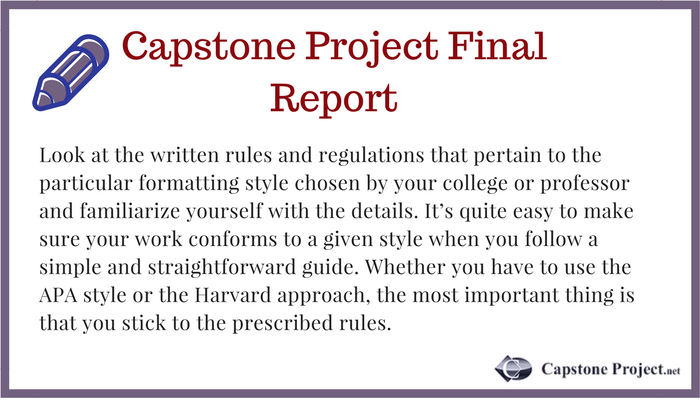 Add the title of your project, your name, and name of the team members (if it's a collective project), and the submission date. Don't forget to consider the capstone project report format to get the title page correct.
A brief paper overview where the research problem is described. It also should have information about the employed methodology, main findings, conclusions, and recommendations.
In this part, mention the relevant literature summary and related research. It's important to highlight the key theories, concepts, and findings related to the chosen problem or research question. The literature review is added regardless of the capstone project format.
In the final capstone project report, it's essential to present what you have found during the research. You can use several formats to showcase data (tables, graphics, charts, etc.).
References & applications
Mentioning the sources you use while working on the capstone is essential. Adding them to the writing is not enough; you should also use the proper citation style. If additional materials are used in the report, consider adding them.
Writing a Capstone Report – Important Things to Notice
There are a few things that are still worth attention. They are not necessary, but once they are clarified, the writing process becomes less daunting.
Before getting started with writing a capstone report, ensure you understand what you want to add to it and how to distribute the information through the text. Divide the text into paragraphs to raise the readability and make it easier to perceive information.
The project report writing should be concise and created with simple language. Stay away from jargon and technical terms. If something looks complicated, consider explaining everything.
Search for relevant details
To make the final report example look supremely confident, consider adding the research details and revealing information about specific components. You can mention methodology, findings, intermediate results, and conclusions. However, don't go far away from the capstone topic. Mention the study's time frame.
Edit and proofread the final version
Once the writing is finished, the work is not completed yet. To ensure the capstone project report is done right, take time to edit the text and eliminate all the issues. Leave the assignment for some time, then come back and edit it. It's also good to read the text aloud as you will hear the parts that should be changed.
The final part to mention in this paragraph is size. According to the project report format, the final version should have at least eight pages, but at most ten pages, including tables or graphical illustrations.
Find and Explore a Good Final Report Example
For several reasons, having some ready-made samples is essential while writing a document yourself. First, you see how other people handle their papers, how they form different structural elements, what they put into a final report example, etc. With these notes, you can avoid common mistakes and save time preparing your report.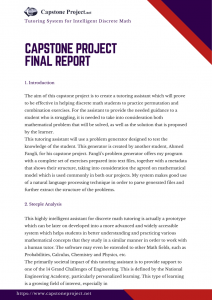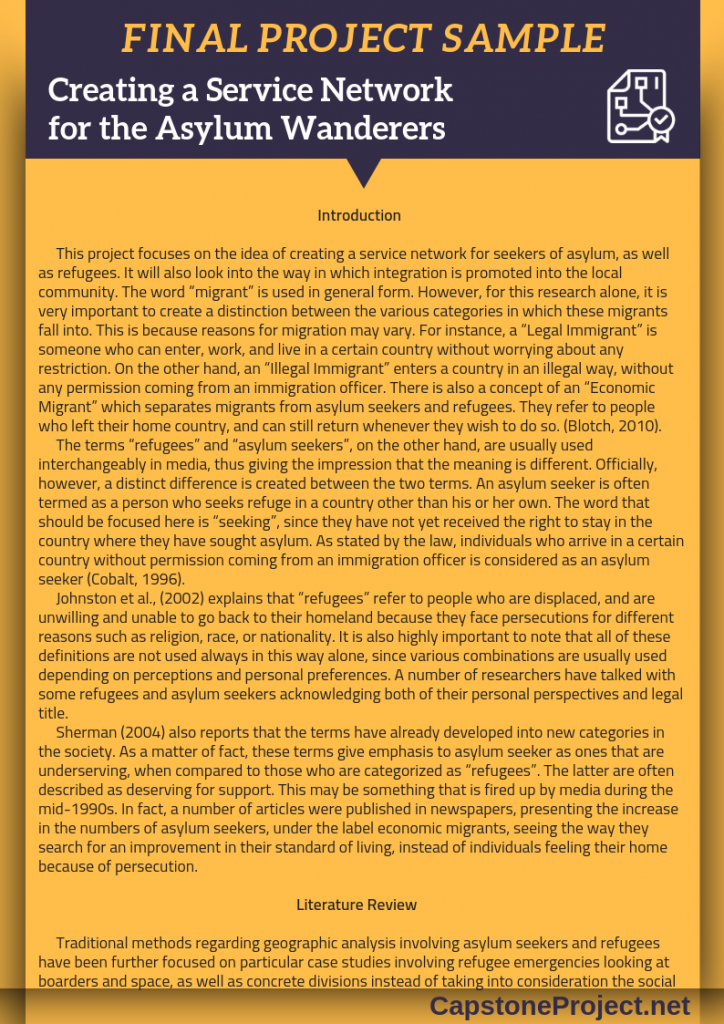 Another reason to use the example that you can find on the chosen capstone topic is to understand the document's final version. When someone says what the writing may look like, that's one case, but when you see it, it's much better.
Order Capstone Report From Professional Writers
Besides writing and research skills, creating a report also requires time. Most students need help with this due to numerous activities and tasks outside of studying. So, the opportunity to buy capstone project report or hire specialists to help with such papers may be the best solution for them.
Experienced authors have created hundreds of various academic papers on different topics for years and can provide a high-quality capstone report matching your requirements and the institution's standards. Moreover, you can also order an edit option to revise your own drafts and make them look great.
Feel free to take professional assistance and reach an outstanding report with no hassles!