It is a fact that many college or university students don't pay proper attention to the guides and format when writing a capstone paper. This project is basically a way to check the progress and intelligence level of the students. Whatever they've studied in college or university is supposed to be discussed. The capstone is mostly considered as best way to examine the learning capability for seeking more knowledge. For writing the best capstones, more than 50% students belong to all the colleges of developed nations prefer following the format. You can't try to make any personal amendments in the capstone's format. The team of experts or professional panel pay full concentration on each step and the way of following format as well.
Capstone Project Proposal Format: Things to Take into Account
The ideal capstone project is created when you start it in an engaging way. For example, the title page play an important role to leave the first impression (negative or positive). Therefore, it must all the important elements. The appropriate title page is comprised of Project Title, Student Name, Class, Name of Teacher and the date of submission. The next important step is to write an abstract that covers all the major points required to be discussed in the project. The abstract takes a lot of time as this is about all of the titles and things to be added in the project. The editing of title page is the highly significant task. All of the titles must be on the page's center.
Capstone Project Format: Do's and Don'ts in Formatting
You can never imagine of submitting the project without an excellent formatting. It can have a major impact on the rejection of your whole draft (which really sounds heartbroken). There are few tips that can help you in doing up to the mark editing of the capstone project report. Have a look at these steps and share with your fellows as well.
Margins and spacing
The spacing between the margins should be double. Like any research journal, you are required to make each word more readable and visible by choosing double spacing between margins.
Titles must always be in the center
The center alignment of main titles is included in the standard format of the capstone projects. This is one of the major mistakes students do in creating capstones. Make sure that main titles must be on center while subtitles should have right alignment.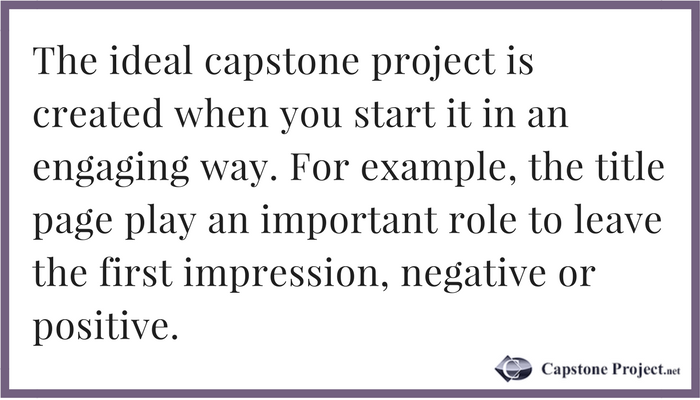 Table of contents
The table of content's section of capstone projects is not so complex. All you need to do is to use numbering for enlisting the main titles. Enlist the subtitles by using simple bullets. You can divide the table of content into different phases. For example, the phases may include Project Outline, Development Methodology, Requirements, Design, Development, Testing Phase, Schedule and References.
References
The reference section in capstones varies according to the type of projects. Majority of the students rely on adding references of different sources to make the research more valuable. The sources can be encyclopedias, books, publications, newspapers, periodicals, magazines and journals. The dissertations and theses are also suggested sources of it.
Sample Capstone Paper APA Format
The capstone papers are written in the standard style APA format like many other projects. This is the professional style to make this project more appealing for grading. Make sure that you follow all important guidelines for implementing the APA style format into your project. In this type of sample capstone paper APA format, you have to add the reference of each page by mentioning it on the center bottom of a page. The author-date citation method is followed when using APA format. The full reference must appear in the list of reference along with author's last name and year of publication.
Capstone Proposal Format: Important Quotes Shared by Experts
According to Claire Danes, "I discovered Orson Welles in college; my Freshman English professor screened 'Citizen Kane' for us, and I wound up writing a 20-page term paper on it".
Best capstones are created in result of a collaborative effort or teamwork. Therefore, henry ford said it in an excellent way. He quoted, "Working together is success".
Another best suggestion by John Rogers for creating good capstone project is "You can't think yourself out of a writing block; you have to write yourself out of a thinking block".
Once you pay attention to these three quotes, you will find a lot of suggestions and useful tips for creating excellent capstones.
Become Wiser in Choosing a Writing Service
Capstones are exceptional and you can't rely on a simple content or academic writer for creating it. A writer must have prior ample experience of writing the capstones. Like our team, the professional authors must have adequate knowledge about writing capstones. You don't need to search more options for hiring the best services. We do offer excellent capstone writing services at affordable price. Always remember that your future is on the stake and you can't take any risks in this situation. Therefore, you need to make wiser decisions by choosing the trusted and economical option.
Final Verdict
The college or university capstone projects mostly take five to six months to be completed in the appropriate manner. The best way is to avoid doing it all by yourself and rely on the credible team of professionals. There is nothing wrong in it. If you've proper understanding of the project, you can hire an expert for making it simpler or help you choose nursing or criminal justice capstone project ideas. However, if you want to create the capstone project by yourself, this will require at least two months of in-depth study.
Capstone project proposal format is the first step to create an engaging and feasible report. Here are some ways and recommendations of it!