Unique and Quality IT Capstone Project Ideas
A capstone project gives students the opportunity to explore their research and analytical skills, providing them by capstone project help. It is important that you are able to create good topics as for you to contribute relevant information to your field of expertise. The constantly growing changes in Information Technology have makes it easier on your part to generate authentic IT capstone project ideas. Remember that the quality of your capstone project is crucial in the success of your academic career which is why you should be able to make sure that this is well written, effective and winning. Take your time not only in coming up with good IT capstone project ideas but ensuring the overall success of your paper.
How to Outline Your IT Capstone Paper
Your IT capstone paper must be carefully written if you are to get the final result that you are looking for. It must be perfectly formatted and in the exact structure that has been requested. Programs define just how they expect your paper to look and these instructions should be followed to the letter at all times if you are not going to have your paper rejected back to you.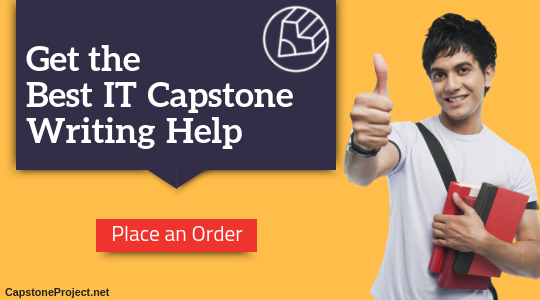 The following is a typical structure for a capstone paper:
Title page: this will contain the program details and the title of your paper
Abstract: written last this is a summary of your whole paper from start to finish and usually follow the same structure as your paper.
Introduction: this should clearly state the problem that you are looking to resolve and the importance of finding a solution to it.
Problem description: this should be a detailed description of the problem that you are going to solve along with your project goals and research questions.
Review of literature: this section will show what is already known about your topic through a review and synthesis of the available literature in the field.
Project description: this will describe the methods that you used to conduct your study in enough detail for the reader to be able to do the project themselves should they so wish.
Results: these are the results that you have found through your research as the name suggests.
Discussion and conclusions: this should show what the main findings are of your research and relate them to your research questions and goals. It should show the importance of what you have found as well as any limitations and any further work which should be considered.
References: all works that you have referred to within your paper should be listed in this section using the appropriate format.
Appendices: this is information that is not included within the main text which may include survey questions and data tables.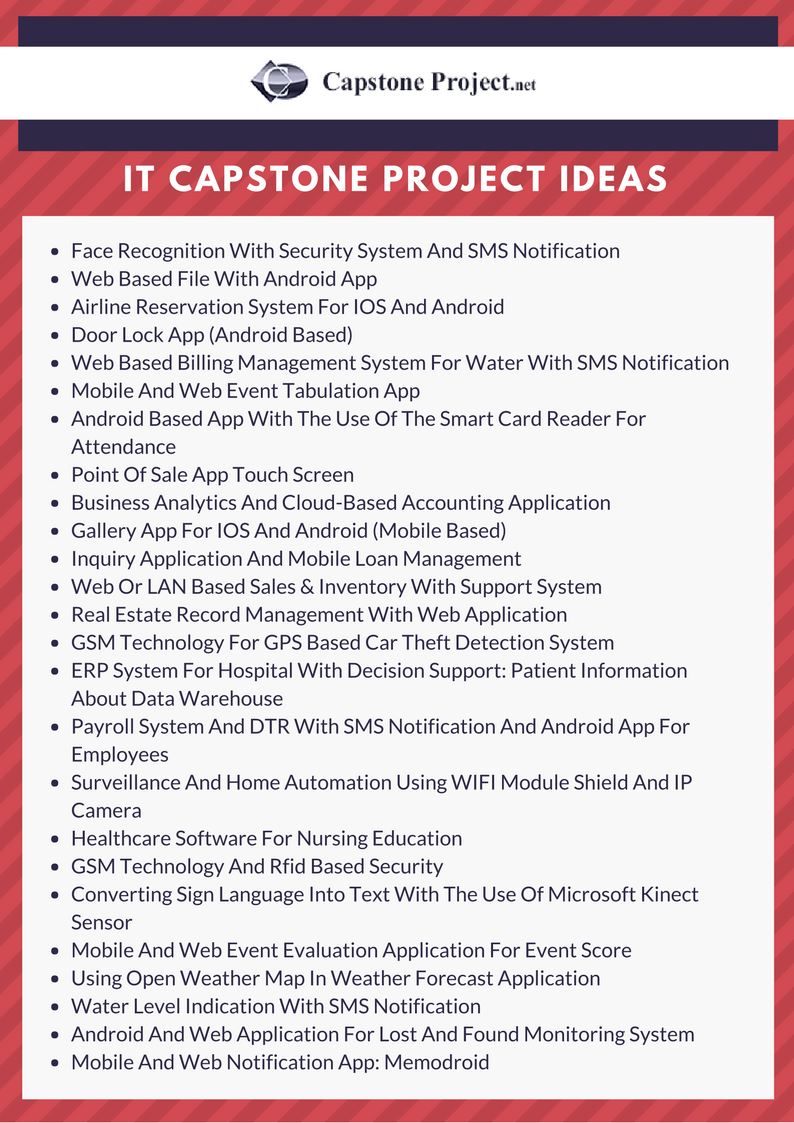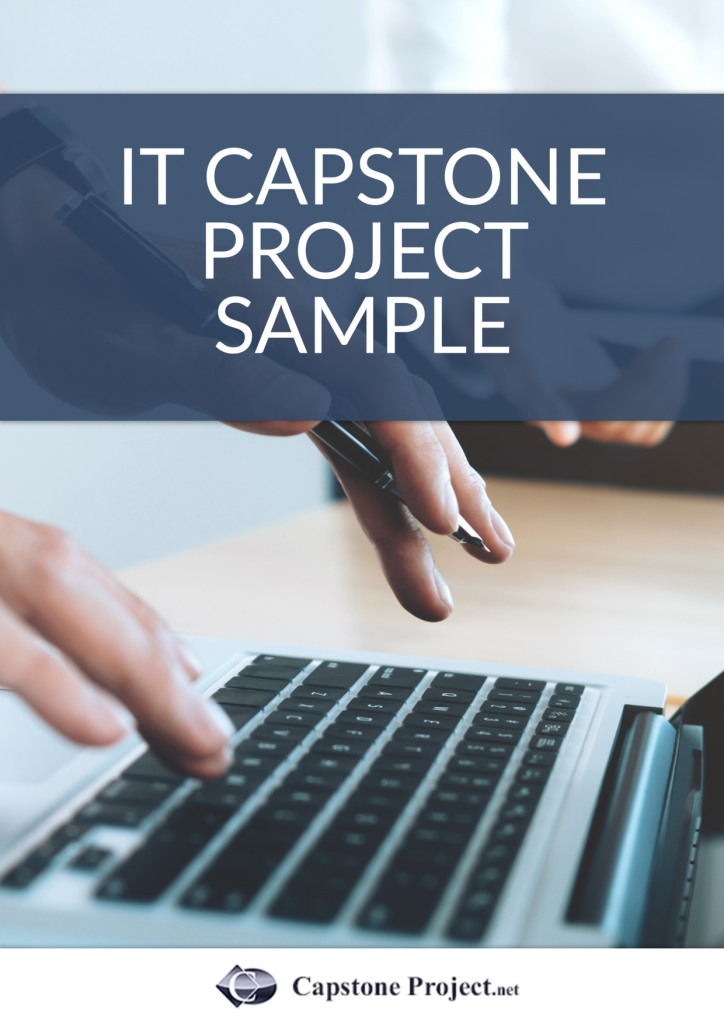 How to Select Your IT Capstone Project Ideas
Selecting IT capstone project topics is the first stage of your research and often the most important part of the process. Select the wrong project idea and you could really struggle to get the work completed to the standards expected of you. therefore when selecting capstone title for IT students you must fully understand just what is expected of your project:
Is it a unique project: doing something that has already been done is not a challenge to anyone.
Is it relevant and challenging: it must be an IT project that will take the skills that you have learned to solve it.
Is it of value: if no one can see the point of you doing what you intend then you are not going to get the grades that you need.
Is it something of interest to you: if it is not something that can hold your interest then you are unlikely to be able to finish the project with ease.
Is it a feasible study: if you don't have enough time or other resources then you will not be able to complete the investigation.
Top 10 Best IT Capstone Project Topics
Corrosion Analysis Automation
Evaluating Tools for Unstructured Data Mining
Spatial Analysis System for Uniform Crime Report Data
Designing a Search Mechanism for Debt Collection
Financial Services Gaming Simulation
Medical Research Data Storage and Analysis System
Programming of Highway and Transit Construction with Business Process Modeling
Web-based Crime Analysis Toolkit (WebCAT)
A First Responder Tool for Hazardous Material response
Automated Call Center Analysis and Modeling
How to Write an Effective IT Capstone Project
Of course coming up with good IT capstone project ideas and doing your research is only the start. You still have to actually write that all important paper. Something that can take a considerable amount of effort and time. The following tips will help you to ensure that your paper will be written effectively and quickly:
Plan your writing: a simple plan with clear milestones for completing every section will help you to ensure that things get done on time.
Set a daily target: having an achievable target for how many words you will write each day will ensure steady and continuous progress.
Have a clear routine: by working at the same time every day you will get into a routine and make more progress.
Outline the paper: a simple outline that shows what needs to be written within each section will make writing easier while helping you to avoid issues.
Proofread and edit the writing: always ensure that the writing is your very best and that it is free from any errors.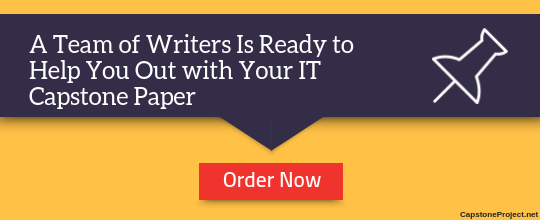 Academic Help to Come Up with Great IT Capstone Project Ideas
Many are still having troubles when it comes to writing their capstone project mainly because this requires expertise and a great deal of time. In order to save you the time and hassle, our company can give you the leading services when it comes to writing capstone project. Our writers can generate you original IT capstone project ideas that will surely leave a lasting impression to your audience. Avail our academic services the next time you are having problems with making good IT capstone project topics or any part of your paper.
Contact our professional writing and editing services here today to get the most effective help you will find for your IT capstone project ideas and to submit a paper you can be proud of!