The mechanical engineering capstone project ideas involve the description of a design problem, performing research and design, and presenting the end results. This also involves the generation of a feasibility study that involves proto-type fabrication and testing. Students are given the opportunity to submit proposal related to capstone project for mechanical engineering. As an alternative, students who chose not to submit a proposal on mechanical engineering capstone projects can choose from available pre-approved projects at the start of the term.
The selection of projects may include competition-based projects (example: race cars), industry inspired projects (example: water treatment systems) and topically specialized products (example: fuel cell). Students in their senior year are required to complete the course. Undergraduate students can apply up to $3000 worth of project materials including equipment that is relevant to their capstone project. All projects must be a concerted team effort. Each team shall have three to five student members. Check our guidelines in writing a concept paper here!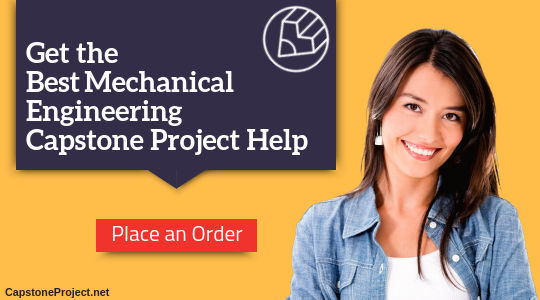 Mechanical Engineering Capstone Projects Provide Students with the Opportunity To
Exhibit good judgment

Develop their abilities to resolve modern design problems

Improve team work

Perform creative planning

Experience fundamental reporting and communication which includes project reports, design reviews and project plans
Upon completion of the program, students are expected to:
Acquire the necessary skills and traits to work as part of a team

Have the proficiency to solve a challenging design problem within a regulated budget

Demonstrate creative thinking by making practical designs

Forecast risk and liability based on design

Be aware and knowledgeable about ethical issues that may arise such as the impact of a project or design on society and the environment

Be able to make an adequate forecast of cost and expenses related to project designs
We are also ready to help with your capstone project for information technology!
10 Topics/Titles for Capstone Project for Mechanical Engineering
Hydrolysis Energy Storage Plant

Hydro Flask Temperature Control and Regulation Project

Hatfield Marine Science Center Pumping Station

Obdi Human Machine Interface

Designing for Micro Businesses

Hydrokenetic energy Harvester

Climate Change Simulator for Cavity Nesting Birds

Autonomous Load Leveling of an Off-Road suspension

Active Gantry Crane for DRL

Sample Return Robot Challenge Arm and Sample Storage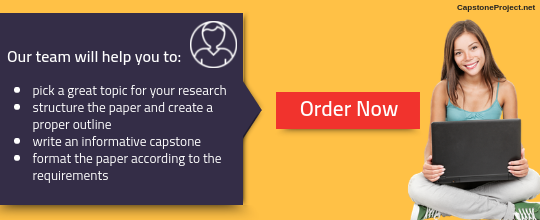 Our Professional Capstone Project Writing Help
By engaging in capstone project for mechanical engineering students will learn to assess design problems, which includes project deliverables and other functional requirements. The project usually involves mechanical engineering capstone project ideas that are industry-inspired. Since all mechanical engineering capstone project involve quantitative analysis students are advised to communicate regularly with tenured faculty members who work with teams.
We guarantee you:
On-time delivery
Only original writing
Professional writers
Plagiarism-free writing
Your satisfaction or money payback
If you need a proper capstone project for mechanical engineering, feel free to contact our team right away!