Management Capstone Project Writing Help
Purpose of the Management Capstone Project
Management programs are an area where there is extensive use of capstone project as a training tool. Most management degrees require completion of one of their capstone classes as part of the degree program. Usually, the capstone will be undertaken during the last semester of the program. It provides hands on experience for the student to practice what they have learned. Some programs have companies that are training sponsors, and allow students working on their capstones to work with them on a regular basis to really "get their hands dirty".
Many schools also offer courses to prepare professionals or students to take the exam for PMP (Project Manager Professional). A PMP course is a standalone program that prepares for the exam, and all such programs usually include a PMP capstone project in the curriculum. "Hands " project managers are in big demand and the management capstone project helps in providing necessary experience.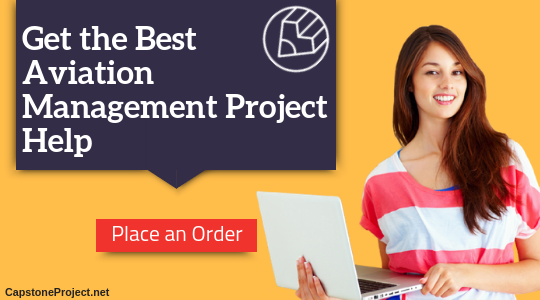 How to Write an Effective Project Management Capstone Paper
If you want the best results from your paper you cannot simply leave writing your capstone until the last minute. Your management capstone project paper must be written to the highest of standards if you want to graduate. They expect perfect English as well as the correct structure and flawless formatting. To achieve this you should follow these tips for your management capstone paper writing:
Always plan your writing: a good plan with the milestones for completing each section of your paper will help you to stay on track. Make sure that sufficient time is also allowed to revise your work carefully.
Look at good examples of management papers for guidance: good samples can show you clearly what is really required from your research and paper writing.
Make a simple outline for writing your paper: rather than simply leaping into your paper it is often best to sketch out just what is expected in each section. This will help avoid rewriting and other issues.
Make your writing routine: sitting down to do your reading and writing at the same time each day will help you build the habit required to get the work completed.
Have daily targets: set yourself a target for how many words you will write each day. Do not set yourself a target that you are going to struggle to meet.
Proofread and revise your writing: simple typos and other issues with your writing can be enough to get your paper returned or rejected. Always take care to review your writing with care.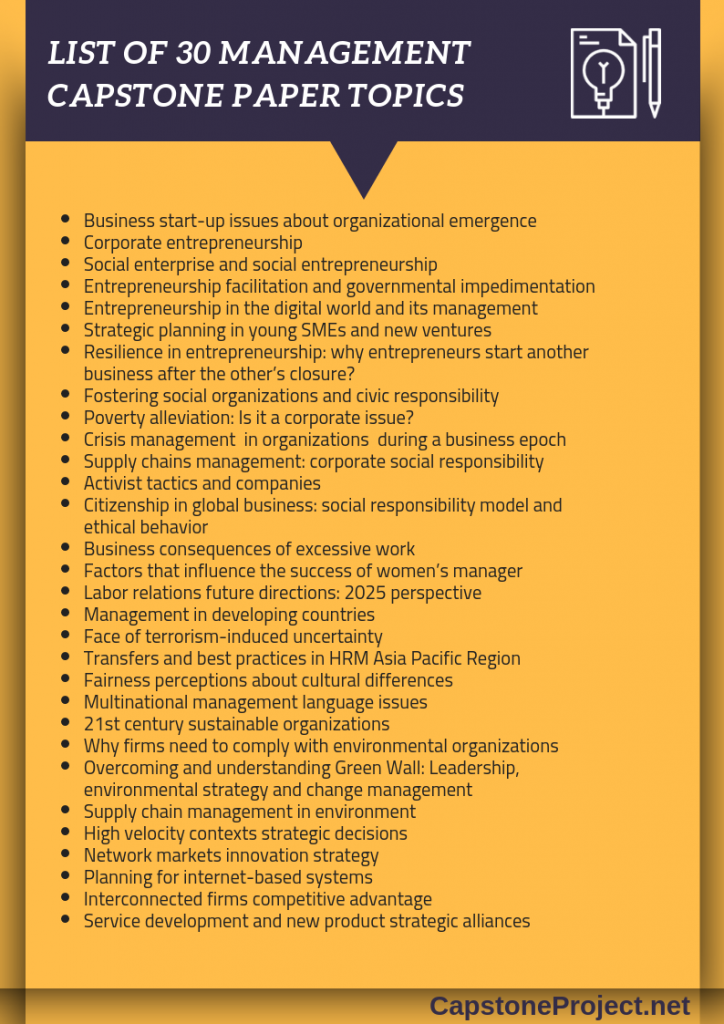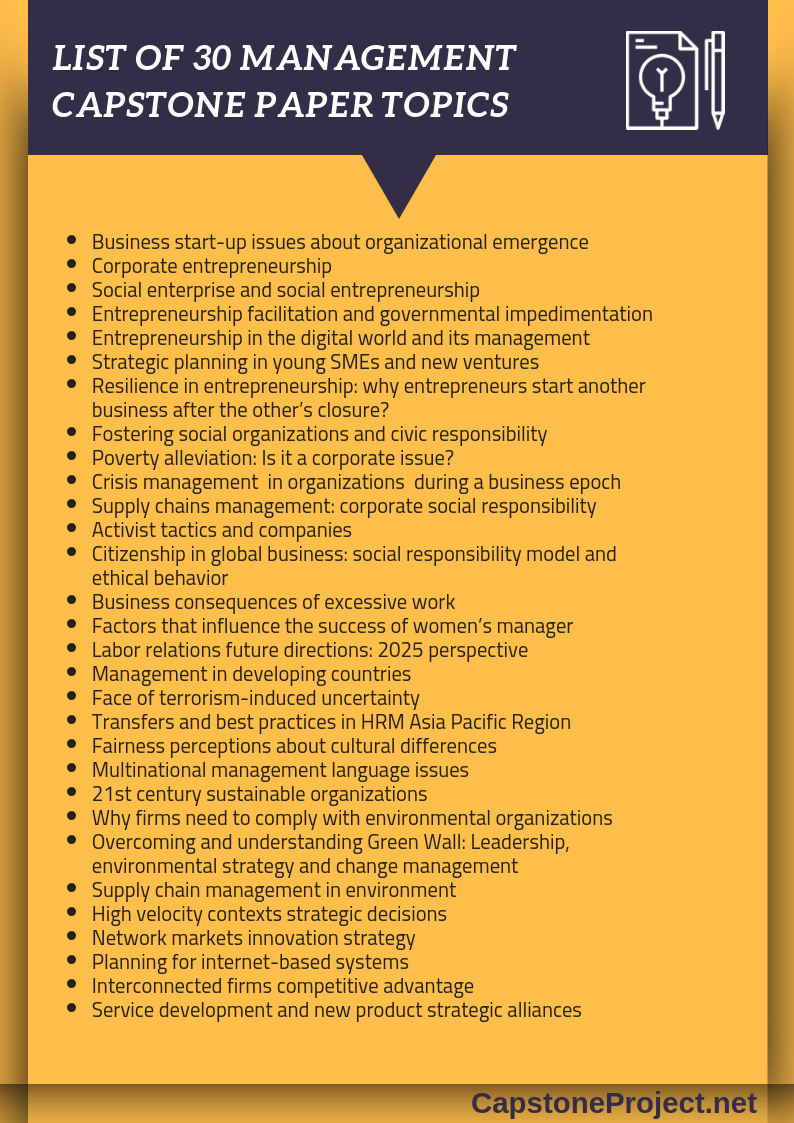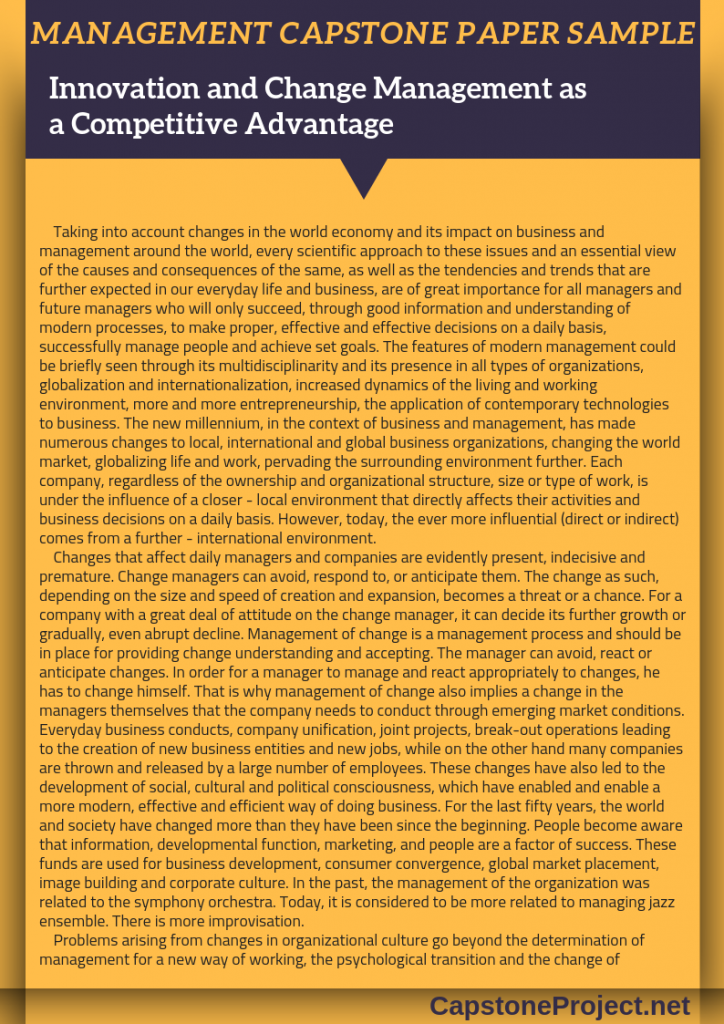 Writing the Management Capstone Project Paper
Many management capstone programs have evolved from the traditional approach. Rather than have the student choose a topic, one may be assigned. It may be based on work done with a sponsor or any number of other things. However, a paper is still usually required. It is often based on the format capstones have always used, and modified for the particular use.
You will be informed if this is the case. The capstone papers traditionally have been outlined as follows:
Abstract – Brief summary of the project
Introduction – Includes statement of problem, project goals, and relates background to the project
Materials and methods – Your methods and tools used
Results – Presentation of data
Discussion and conclusions – Discussion and interpretation of data, and what it means
It's a useful outline for presenting information, and many managers use a form of it their entire careers. It states a problem, the solution that will be tried, how to apply it, and gives the results. If you are unsure about writing your management capstone project paper, our capstone project service can help. Choose for you one of our capstone topics!
How to Work with Our Professional Services for Your Management Capstone Project
We offer a full range of support for management capstone paper writing and editing through some of the best qualified experts you will get access to online. Using our professional help is very easy. Just follow the process detailed here:
Complete the order form that you can find on our website: our site is available 24/7 from anywhere in the world.
Pay for requested services: we offer very competitively priced help and your payment can be made using a credit card using secure methods.
Talk with your expert: your specialist will be assigned and they will contact you directly to discuss your specific requirements and expectations.
Review your draft: we offer an unlimited number of revisions and your expert will continue to work with you making changes until you are fully satisfied.
Your finished capstone is delivered: after changes are completed the paper is proofread and then supplied to you on time.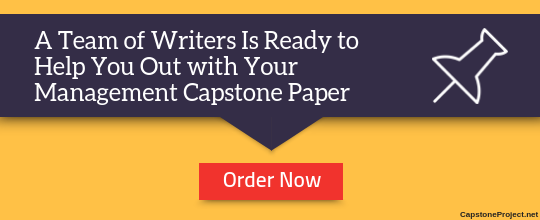 Help with the Capstone Project Writing
Our capstone project service can help with your management capstone project. Our writers all speak fluently in English, and come from many different academic backgrounds and careers. We provide you on capstone projects of such fields as education capstone, chemistry capstone, mathematics capstone. All our writers are familiar with working on capstone projects and have completed numerous projects successfully. Our editors are equally well qualified, and every paper we write is edited. A paper you receive from us will be original, free of errors and meet strict quality standards. We guarantee this, as well as on-time delivery. Other features of our service include, but are not limited to the following:
Easy online ordering and payment
Customer support 24/7
Discounts on top of already affordable rates
Complete customer confidentiality
Contact our specialized and effective services today for affordable support with writing or editing a management capstone project paper that you can submit with pride!