Psychology Capstone Project Writing Help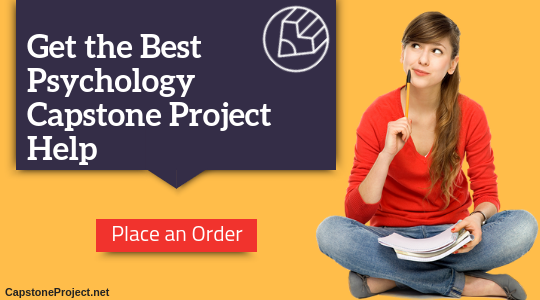 What Is the Psychology Capstone Project?
The psychology capstone is a project usually undertaken in your last year of school. It provides you with the chance to apply what you have learned in class. You can focus on your areas of interest and apply the skills, knowledge, and methodology you have learned. At the same time, the school will be able to assess your use of what has been taught to see how well you have learned. Capstone project serve as a good bridge between school and entering the workforce, by supplying hands-on experience. Projects may vary but in a typical program, students have the option of choosing between a research project or an internship.
What Mistakes Do Students Make When Writing Their Capstone Project for Psychology?
Your psychology capstone project paper needs to be written perfectly if you are to graduate your course. There are many issues that you can encounter when writing your paper as well as many problems that can be of your own making.
The following are just a few of the mistakes that you could make when you start your capstone project for psychology:
Not planning your writing: too many students simply leave their writing until the last minute and then have to complete their work in a panic as they do not have enough time.
Not selecting a project idea that is feasible: you must be able to complete your project in the time that you have available and with the resources you have to hand.
Not understanding the requirements: always clarify what is expected of you before you start. You must know the correct format and structure to use as well as the number of pages you need to complete.
Failing to proofread your writing: submitting work that contains any errors could see your paper being returned to you or even rejected.
What Are the Procedures If I Choose Research for My Psychology Capstone Project?
If you choose to research for your psychology project there are a series of steps you will have to take before actually getting started on the project itself.
The steps and the basics of what they involve are shown here:
Choose a topic – select what your project will be about.
Prepare and present a proposal – write a proposal and present it. The purpose is to convince those in charge, the topic is deserving of further research and that your project is a good way to do it.
Research – check other literature on the topic and any other research you need.
Conduct the actual project – conduct your project using the methods covered in your proposal.
Write the psychology capstone project paper – this is a critical point. For most people, your paper is the project. Poorly written and presented means it was a bad project no matter what your results.
Present the paper – give an oral presentation of your paper.
If at any point in your project you have problems, you can contact our company's capstone project service for help.
How to Work with Our Psychology Capstone Project Help
Getting our psychology capstone project help is very simple. All you need to do if you want to ensure that your paper is written perfectly is to follow the process detailed here:
Complete the order form: you will find the form on our site so that you can make your order at any time night or day. Our 24/7 operation will be ready to help.
Make payment: all of our pricing is clearly shown and highly competitive. Payments are made using secure methods to ensure your full protection. Payments are protected by our money back guarantee.
Discuss order with your expert: your expert will be assigned and will work directly with you to fully understand exactly what you are looking for. Support is fully tailored according to your specific needs for the best results.
Review the draft: all work is done to your expectations and you will be asked to review when complete. We offer unlimited revisions and will make any changes you require until you are satisfied.
Final paper is delivered: after you are satisfied with the changes the paper will be proofread and then delivered to you.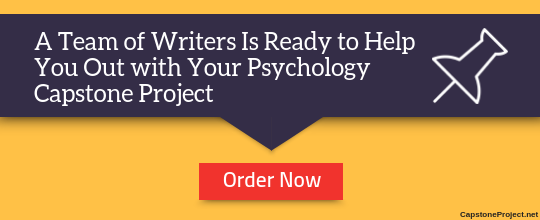 Our Expert Capstone Project Help
Our capstone project service can assist you with any part of the psychology capstone project that may give you problems. From the beginning with topic selection to the oral presentation at the end of the project, if you need help we can provide what you need, regardless of academic level or topic area such as electronics project, chemistry science project, etc.
Some of the reasons we can provide such complete coverage of everything capstone are listed here:
All of the writers we use ere fluent in English. Each writer has completed many capstone projects that were well received. We have writers from every academic background
Professional editing by experienced editors
Guarantee a complete of our work, including quality, originality and on time delivery
24/7 customer support
Discounts available on top of already very affordable rates
Submit a psychology capstone project that you can be fully proud of with the help and support of our professional and reliable writing and editing services!