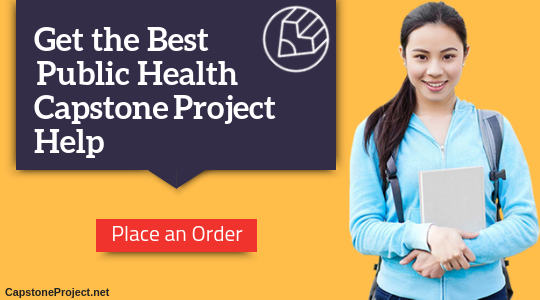 Coming up with a proper public health or nursing capstone project at the end of your college course is most certainly going to be particularly beneficial when it comes to establishing a career in the subject matter. What is more, you might be able to find some inspiration or use some of the topics that we suggest down below.
What Must Public Health Project Ideas Cover for Your Capstone?
Knowing just what to include within your capstone project can be confusing. You have to find unique public health capstone project ideas that are going to be interesting and feasible to conduct if you are to deliver a paper that will help you to pass your course. Key to selecting the right public health project ideas is knowing just what the program will be looking for. After all if your topic does not meet their criteria then it will be rejected.
You must consider all of this when making your project topic selection:
Is the idea unique? You must select something that no one else has yet solved for your project.
Is it relevant to your course? The purpose of your capstone is to demonstrate that you have learned something during your course by using what you have learned to solve a real problem.
Is it challenging? Choosing a project that is simply too easy is not going to win you any grades. You need a project that allows you to demonstrate your skills.
Is it feasible? With a limited amount of time available to you and other resources limited you have to ensure that you will be able to actually finish the research with a high chance of success.
Public Health Capstone Project Ideas That Are Worth It
PublicHealthDegrees.org lays out some interesting facts about the relatively high salaries in the public health sector. So you should prepare a really good capstone project. Now, you might have the best intention of creating the perfect capstone project but failing to come up with an idea might put a damper on things pretty quickly. With this in mind, we have compiled a comprehensive list of suggestions that you could take advantage of or to use as inspiration for coming up with topics on your own.
So, without any further ado, let's take a quick look at what we have in mind:
Developing educational materials for practitioners in the public health segment
Deliver a training session for different case managers
Perform an analysis on the efficiency of local health department identification capabilities
Present a scholarly article for drug prevention
Identify potential threats and outline possible solutions
Conduct in-depth research regarding a certain problem
Trace back the existence of a public health related problem and predict outcomes
Address a public health issue in-depth and suggest fresh prospective
Focus on a particular issue in a local health department and offer solution
Identify problem areas in the course of education and provide solution
Fall prevention checklist development for care homes
Driving safety skills workshop for elderly drivers
Risk assessment tool for gyms
Dealing with Alzheimer's in the community
Persuading supermarkets to supply local organic foods
Healthy eating education for schools
Examination of other countries approach to providing affordable health care
Giving poor communities access to health care education
Identifying students at risk of abuse
Workshop development for identifying eating disorder risk factors
Understanding communities and the relationship to crime
How to encourage urban gardening
Improving uptake of exercise programs for the elderly
Office worker health improvement program
Promoting healthy eating for low income families
Methods for funding home improvement programs
Encouraging youth club development
Identifying mental health issues within prison populations
Memory skills training options
Strategies to prevent bullying in schools
As you can see, the options are pretty much limitless. All you need to do is come up with something that inspires you to conduct in-depth research and handle it accordingly.
What Must You Avoid When Selecting Public Health Capstone Project Ideas?
Knowing what you should not be writing about is just as important when selecting your topic ideas. The following guidance can help you avoid issues when selecting your public health project ideas:
Don't select a project that you have no chance of completing: you have limited time available as well as other resources.
Avoid anything that may be seen as unethical: your project should not expose anyone to harm of any form.
Don't choose projects that are simply too easy or not relevant: if you are unable to demonstrate your skills then you are unlikely to graduate.
Never repeat something that has already been done: copying or redoing something to which established and accepted solutions already exist is not going to be seen as any challenge to you.
Public Health Capstone Project Examples and Help with Writing
Now that you've taken a look at the examples, let's see how to handle a capstone project of the kind. Below you are going to find 5 quick tips which are more of stepping stones for your project. Let's take a look.
Identify the issue that you want to address
Analyze the issue in-depth by tracing back its roots
Analyze modern ways of handling it and suggest methods of optimization
Cross-reference all your findings and make sure they are accurate
Put down all your findings in writing and proofread your project
Find Professionals to Help You Out
This is without a doubt a particularly beneficial thing to do. You can take advantage and get your economics capstone project topics polished perfectly and free of any mistakes.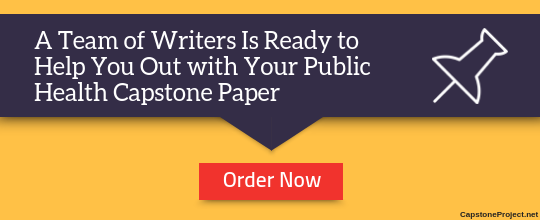 We guarantee:
Professional writing and editing
On-time delivery
100% original content
24/7 online support
Your satisfaction or money payback
Plagiarism-free paper
Find the best public health capstone project ideas and write a perfect paper with the help and support of our affordable and professional services!